How much is your property worth?
It is a misbelief to think that it makes sense to start selling real estates at the highest possible imaginable price. It is much more successful to set a realistic price from the beginning, which corresponds to the location, size and condition of the property. You should consult an expert for a market-oriented valuation of your property. Immobilien4you has great experience in the valuation. We have been working in the industry for 19 years and have already valued and successfully brokered several properties. We calculate the selling value of your real estate.
Determine online value and get immediate results
Just click on the button below to start your evaluation
Professional evaluation of your real estate
Extensive market value report
You need a market value report for your property, for example for your tax return. In it we calculate the market value according to the capitalized earnings value, real value and comparative value method. The professional preparation of such an report will be invoiced by us.
Important to know: The market value determination is not an expert opinion according to the guidelines of § 194 BauGB, but a profound orientation guide for you as an owner.
An offer price corresponding to the market is the basic requirement for the successful sale of real estate. A price set too high delays the sale. Your property will be perceived as a slow seller and in the end you will get a lower price than if it had been offered at a realistic price. This mistake cannot be corrected later and costs you a lot of money. You can prevent this through our profound valuation and well-considered pricing.
We will gladly inform you about the conditions for the valuation and a market price analysis on request. If you decide to commission us with the brokerage of your property (brokerage contract), we will charge the price in full with the brokerage fee (broker commission).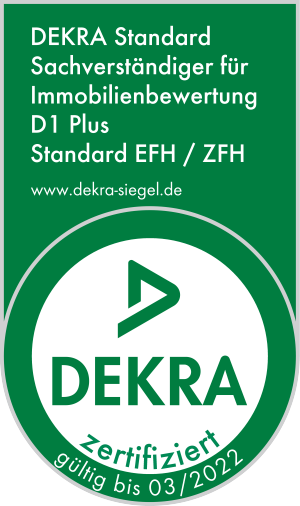 Mr. Neumann is a certified expert for real estate valuations.
Most frequently asked questions and answers
You will receive the online valuation completely free of charge and without obligation. A market value appraisal will be invoiced by us.
For the online valuation, we only need the type of property, the size of the property and the living space, the year of construction of your property and the equipment and condition.
In order to determine the selling price of your property according to market conditions, we use comparable properties. In this case, a satisfactory match in terms of the year of construction of the property, the size as well as location and equipment are essential.
The property index corrects differing valuation dates and takes into account property characteristics that influence the value.
The basic procedures of the Valuation Regulations also include the real value procedure, which is used by official experts and appraisers.
Der Immobilienindex korrigiert abweichende Bewertungszeitpunkte und berücksichtigt wertbeeinflussende Objektmerkmale.
Zu den grundsätzlichen Verfahren der Wertermittlungsverordnung zählt auch das Sachwertverfahren, welches von offiziellen Sachverständigen und Gutachtern angewendet wird.
The online valuation is based only on the information you provide and gives a first rough value of the purchase price to be achieved on the market. If you would like an exact value, it is advisable to carry out an on-location inspection with you in order to work out the special features of your property. Of course, this is not connected with any costs for you
It takes about 2 minutes to enter your data. When you have filled in everything completely, we will send you the evaluation immediately by e-mail.
If there are any questions on our part that have an influence on the value of the property, we will contact you by phone. Therefore it is necessary that you fill in your contact data completely. After all, every property is individual and unique!
Each valuation is only a snapshot. The real estate market is always on the move and therefore the prices are always changing. If you are interested in selling your property, a current valuation, which is not older than 1-2 months, is recommended.